Congratulations to long-time NAPLIA friend, Rita Keller, for being named to Accounting Today's 100 Most Influential People.
Rita Keller and NAPLIA Partner, Stephen Vono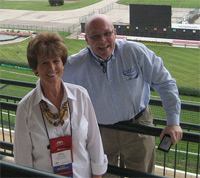 Rita is a Social Media maven who brings her high energy and fresh ideas to CPA Firm Management. She is a well respected speaker across industry conferences and we recommend keeping up with her through her blog and/or facebook page.
We commend Rita on her ideas of challenging the status-quo and bringing fresh insight to CPA Firm Management.
More from Rita:
Do your professionals know what to do when a client is unhappy?